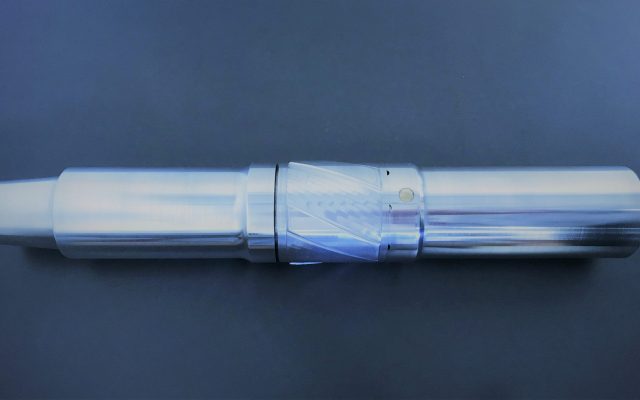 Overview
Our NRST (Non-Rotating Sleeve Type) Spiro-Torq® tools are recommended for use in cased hole conditions and are used in helping in downhole torque issues as well as addressing casing wear and drill pipe tool joint wear concerns.
The major advantages of using the NRST Spiro-Torq® tools are:
Significantly reduce casing wear
Significantly reduce downhole rotary torque
Significantly reduce wall contact
They are unaffected by use of any type of wellbore fluids
They can reduce drill pipe tool joint wear
They can be utilised in standard, HP/HT and geothermal drilling conditions
The one-piece main mandrel of the tool is manufactured from 4145H modified steel with the sleeve manufactured from 4140H steel.  This design allows the tool to be run for short durations in the open hole until the bit change/trip out and also allows for side loadings in excess of 10,000 lbs and which to date, a record of over 1,000 rotating hours, per sleeve, has been achieved.   The tool can be used for a recommended minimum of 350 rotating hours before it is required to be inspected.
The key features of the tool are:
The main mandrel is one piece made from 4145H modified steel
The sleeve is a non-rotating one-piece items made from 4140H steel
No rubbers, elastomers or bearings are used in the design of the tool
A low co-efficient of friction chromium alloy on both sleeve and mandrel stress area
The tool is manufactured in accordance with the latest NS1 specifications
It can be inspected to the latest NS2 and DS1 criteria as per customer requirements
Range of connections, covering both API and high torque types, from NC38 through to 6 5/8 FH
The tool is mud lubricated
Currently has been a 100% failsafe design.
Drilltech Group around the world

Regional Hub
Operating Area