NRST Spiro-Torq® - Torque Reduction Tool
(Non -Rotating Sleeve Type)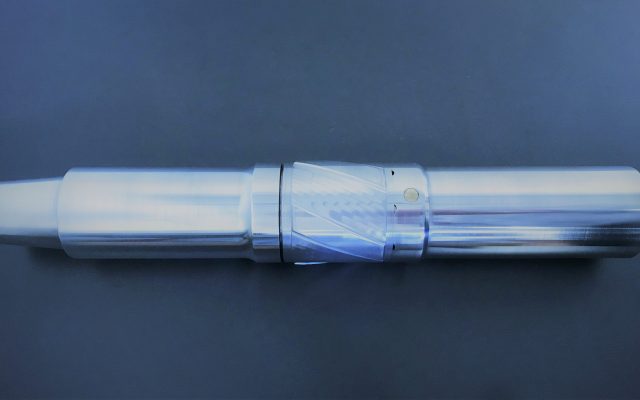 Introduction
The NRST Spiro-Torq is an industry leading Oil & Gas drilling tool. It has been designed, strenuously tested and since long proven to provide significant down hole torque reduction, casing wear protection and drill pipe protection.
For just over 25 years, Drilltech Group has been fully certified to supply our patented drilling technology to the Oil & Gas industry. Within this period, we've successfully helped numerous operators reach complex drilling targets – in a safe, timely and cost effective manner.
The Non-Rotating Sleeve Type specialist tool is manufactured in-line with the highest industry standards. It has a simple yet very robust all steel design. No rubbers, screws, pins, elastomers or ball bearings are included within. As such, there are no practical temperature limitations and is proven to withstand HP/HT, Geothermal and ERD environments.
In fact, the NRST Spiro-Torq comprises of only six components. A minimalist yet very secure design has many advantages:
1. Unaffected by the use of any type of well bore fluids.
2. Extremely low chance of operating failure due to so few components.
3. Fewer components results in less potential repairs, and thus fewer costs.
4. If required, re-dressing of the tool onsite is quick and easy.
5. No need for designated & costly service engineers to accompany the tool.
How is torque reduction, casing wear protection & drill pipe protection achieved?
The focal point of the NRST design is the 4140 steel non-rotating sleeve, which rests on a central upset included within the one piece mandrel (4145 steel). It is secured together by a 4140 steel collar and 100% fail-safe internal locking mechanism,
The OD of the sleeve is slightly larger than the tool joint OD of the designated drill pipe. When run down hole, a stand-off is created between the drill string and casing ID. The non rotating sleeve allows the drill string to rotate freely without wearing against the casing. In doing so, significant torque reduction is achieved as well as drill pipe protection and casing wear protection.
The NRST Spiro-Torq Tool is available complete with varying API & Premium connections. Ranging from 3 1/2″ OD to 6 5/8″ OD, there is no "middle connection" within the mandrel. Only a pin and box connection at each end.
Each Spiro-Torq Tool is placed into the drill string as if they were a standard crossover sub. Placement is dependent on the severity of the drilling conditions, however as standard, a ratio of one tool per stand is normally required.
Due to the simplicity of the tool's maintenance and make up procedures, existing rig crews are more than capable of handling the tool. This removes the need for Drilltech to supply costly service engineers, reducing both client cost and potential health and safety risks.
NRST Spiro-Torq® Performance
The NRST tool can run down hole for substantial periods of time. As standard, a minimum 350 hours of rotation is guaranteed. At this point we would suggest inspecting each tool. However to date, a record of over 1,000 rotating hours has been achieved without impacting on performance.
Compared to drillpipe, the NRST Spiro-Torq has much higher tensile and torsional ratings. It can achieve more than 240 RPM. While in drilling mode, the tool can withstand side forces up to 15,000 lbs. However there are no practical limits to the side force while pulling out of hole. This is because the solid metal sleeve simply rests against the mandrel upset. A prime advantage of the NRST Spiro-Torq design.
An added benefit of the tools non-rotating sleeve, is that casing-friendly chromium alloy is applied to it's spiral design (the point of contact with the casing wall). This not only protects the casing, it also prolongs the use of the tool and minimizes the effect on 'equivalent circulation density'.
Although recommended for the cased hole, the NRST design does allow the tool to be run for short duration in the open hole, until the bit change/trip out. For all open hole drilling issues however, please consider Drilltech's IT (Integral Type) SpiroTorq Tool. Like the NRST Spiro-Torq, it offers a proven and trustworthy solution against drill string wear. In addition, it also addresses issues such as differential sticking and inadequate hole cleaning.
Free Torque and Drag Analysis
In addition to the supply of our NRST Spiro-Torq Tools, Drilltech also offer free torque and drag analysis. This is to determine placement and just how beneficial our tools can be under your own particular set of drilling conditions. No obligation to rent is attached to this service and if of interest, please feel free to contact Drilltech, along with the following information:
A. Well Trajectory (Actual plus planned ) MD, Inc, Azi (in MS Excel or .txt file please)
B. Casing Info (setting depths size weight)
C. BHA and string component info
D. Mud Properties (MW, YP, PV)
E. Predicted Bit run length prior to bit change
Drilltech Group around the world

Regional Hub
Operating Area