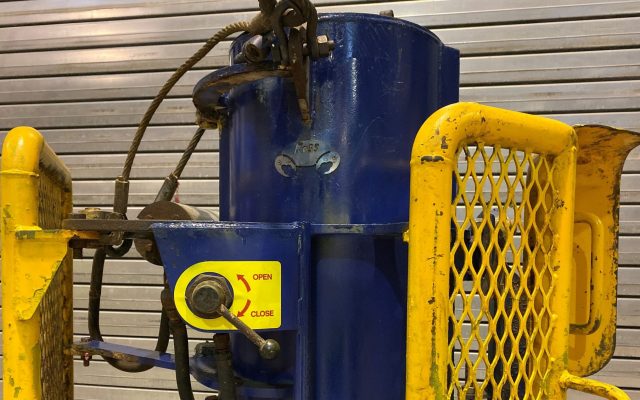 Overview
Drilltech Group's M2000 Mud Bucket (Mud Containment System) creates a safer, cleaner and more cost effective drill floor by retaining 100% of drilling fluids.

Vital and costly mud or other drilling fluid should remain within the rig's mud system, and not over the side or onto the drill floor. Such loses are hazardous to the environment, dangerous to rig crew and expensive to replace.
However, Drilltech's air operated Mud Bucket can remove those worries. With a strong track record within the Oil & Gas Industry, our mud containment system has proved to be a market leader. This is due to the M2000's reliability, simple operation, easy manoeuvrability and cost effectiveness.
Manufacture & Operation
Manufactured to the highest of standards, each Mud Bucket is fully water tested prior to delivery to ensure 100% containment. The main body is made from strong steal and powder coated, to withstand harsh conditions. Other components that contribute to the Mud Bucket's 100% performance, include:

Stainless steel captivated bolts
Brass connections
Insulated RAMs
Moisture lubricator system (to ensure prolonged RAM life)
Greased moving parts
The M2000 is pneumatic, very simple and safe to operate. The initial connection to the rig's standard air supply is quick and efficient. The same can be said for the clamping operation of the bucket itself, as well as it's simple lever control. Being compact and under 250kg, it's also very easy to manoeuvre across the rig floor and is fitted with safety guards.
To further enhance safety, Drilltech recommend utilising the custom built M2000 Carrier Basket. The basket ensures the Mud Bucket is easier to mobilise, and also protects against accidental but costly transport damage.
Cost Savings
The added benefit of such safe and simple technology, is the speed at which it can be operated. In turn, this provides further cost savings by cutting rig time.
Before being delivered, Drilltech dress each Mud Bucket to the customers required seal size. Saving time before it even arrives. Seals can be changed on site and within a few minutes, thanks to a quick release system. At all times, Drilltech hold a large selection of polymer seals, to suit drill pipe ranging from 2 3/8″ to 6 5/8″ OD. All can withstand basic and acidic muds.
The Mud Bucket also features an 8″ outlet (larger than standard 6″ or 4″) which enhances the outflow of fluids. Drilltech can supply outlet reducers down to 6″ or 4″ if required, however. All are securely held in place by quick, snap lock coupling.
Summary
Drilltech Group's M2000 Mud Bucket can help make your next drilling operation safer, more cost effective and environmentally friendly. To find out more, please feel free to contact us.
The M-2000™ is compact and weighs less than 250 kg allowing easy manoeuvrability around the rig floor.
Better retention of expensive drilling fluids results in significant cost savings.
Pneumatically operated, this bucket offers a range of improved safety and operational features.
Guard cages provide superior protection for the rig crew at all times during operation.
Quick release bolts allow change out of pipe seals in just a few minutes.
Seals are available for pipe sizes ranging from 6 5/8″ through to 2 3/8″.
Helps ensure a clean, mud free drill floor, minimising risks of accident due to spillage.

M-2000™ Mud Bucket Specification
Length : 1.60 m
Weight : 248 kg
Handling Basket Specification
Tare Weight : 650 kg
SWL Weight : 350 kg
Gross Weight : 1000 kg
Dimensions : 1.96 m x 1.21 m x 1.35 m
Drilltech Group around the world

Regional Hub
Operating Area