IT Spiro-Torq® - Stuck Pipe Prevention Tool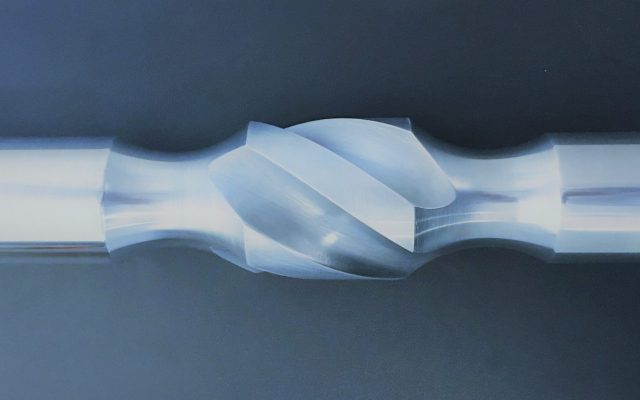 The IT-SpiroTorq® is the optimum drilling tool for ensuring stuck pipe prevention. Whilst rotating down hole, the design simultaneously provides additional open hole cleaning by increasing the agitation of cuttings. In addition, the IT tool is a proven drill string tool joint wear protector and combats against differential sticking.
For just over 25 years, Drilltech Group has been fully certified to supply our patented drilling technology to the Oil & Gas industry. Within this period, we've successfully helped several major operators reach complex drilling targets. At all times this has been achieved in a safe, timely and cost effective manner.
With an unrivaled track record, the IT Spiro-Torq Tool® has been successful in even the most challenging of well conditions:
HP/HT Drilling
Extended Reach Drilling
Horizontal Drilling
Geothermal Drilling
Deep Water Drilling
Recommended for use in the open hole, the IT Tool is generally used for differential sticking / stuck pipe prevention. However it can be utilised solely as a tool joint wear protector or as a cuttings agitation / open hole cleaning tool.
For all cased hole drilling issues, please consider Drilltech's NRST (Non Rotating Sleeve Type) Spiro-Torq. Like the IT Tool, it offers a proven and trustworthy solution against drill string wear. In addition, the NRST Tool also reduces down hole torque and provides casing wear protection.
Stuck Pipe Prevention – how is this achieved?
Manufactured from one piece 4145 steel, the IT-SpiroTorq® is available with both API and premium connection types, ranging from NC38 to 7 5/8″ REG.
The specially grooved mandrel incorporates 4 fluted blades, with the contact area of each dressed with chromium alloy. The application of a pro-casing chromium alloy allows rotation in the casing, to address, for example, avalanche zones.
The fluted upset design increases the flow area of drill cuttings and assists with their agitation. This minimises the effect of E.C.D. and maximises the overall hole cleaning action. The design of the mandrel also provides flexibility and reduces the risk of cuttings pack-off.
The overall OD of the blades is slightly larger than the tool joint OD of the drill pipe. Down hole, this creates a stand off between the drill string and the formation wall. As only the face of the blades are in contact with the formation, the drill string is safe to rotate freely. Differential sticking / stuck pipe risks are therefore significantly reduced.
Each Spiro-Torq Tool is placed into the drill string as if they were a standard crossover sub. Placement is dependent on the severity of the drilling conditions, however as standard, a ratio of one tool per stand is normally required. Due to the simplicity of the tool's make up procedure, existing rig crews are more than capable of placing the Spiro-Torq® Tool within the drill string. This removes the need for Drilltech to supply costly service engineers, reducing both client cost and potential health and safety risks.
Free Torque and Drag Analysis
In addition to the supply of our Spiro-Torq Tools, Drilltech also offer free torque and drag analysis. This is to determine placement and just how beneficial our tools can be under your own particular set of drilling conditions. No obligation to rent is attached to this service and if of interest, please feel free to contact Drilltech, along with the following information:
A. Well Trajectory (Actual plus planned ) MD, Inc, Azi (in MS Excel or .txt file please)
B. Casing Info (setting depths size weight)
C. BHA and string component info
D. Mud Properties (MW, YP, PV)
E. Predicted Bit run length prior to bit change
Overview
The major advantages of using the IT Spiro-Torq® tools are:
They assist with cutting agitation
They reduce differential sticking risks
They reduce downhole torque and drillstring harmonics
They are unaffected by use of any type of wellbore fluids
They can reduce drillstring wear
They can be utilised in standard, HP/HT and geothermal drilling conditions
The key features of the tool are:
The tool is a one-piece manufacture made from 4145H modified steel
The fluted upset increases flow area of drill cutting returns and therefore minimises the effect of E.C.D and maximises hole cleaning action.
The contact area of the blades is dressed with a casing friendly chromium alloy.
The specially grooved mandrel provides flexibility and minimises the risk of cuttings pack-off.
The tool is manufactured in accordance with the latest NS1 specifications
It can be inspected to the latest NS2 and DS1 criteria as per customer requirements
Range of connections, covering both API and high torque types, from NC38 through to 7 5/8″ REG
100% fail-safe design.
Drilltech Group around the world

Regional Hub
Operating Area